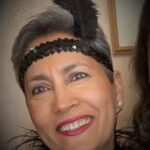 "I should have treated myself to a full art education. An 'A' level in art and a general art foundation wasn't enough.
At 19 I went to Liverpool University and graduated with an honours degree in Zoology and Industrial Studies with a vague notion of teaching. However, I dropped into retail management then into business development for decades. Along the way I picked up a Masters in Business Administration from Loughborough University.
Over the years, I painted figuratively in oils and watercolours but without vision or voice.
In 2004 I did a bit of printmaking. It was magical but the day job intervened. I've just retired at 64 to resumed art, and Pablo Picasso put how I feel about art brilliantly:
"What do you think an artist is?.. he is also a political being, constantly aware of the heart breaking, passionate, or delightful things that happen in the world, shaping himself completely in their image … painting is not done to decorate apartments. It is an instrument of war."
Website